WELCOME TO ARDENT!

SPRING : YEAR 11

OUT OF CHARACTER
IN CHARACTER
RANDOM EVENTS
WEATHER

01 • 10

| Some new

site improvements

have been made! Come see what all the excitement is about!

01 • 02 | It's now Spring of Year 11. Don't forget to age up your characters! :)

12 • 21 | Please note that Alpha Activity check is on hold for this week and the next, due to the holidays, and will be resuming for the week of January 2nd - 8th.

12 • 02 | Want some gems? Suggest some random site events!

10 • 06 | Have a Raid Scoreboard - you're welcome!

01 • 15 | DAUNTLESS

is holding

a vote

. Participation is required.

01 • 13 | DAUNTLESS is holding a moose hunt here. Attendance is highly encouraged.

01 • 13 | ABAVEN is holding a pack meeting here.

12 • 06 | LIRIM is holding a packwide hunt, mandatory for all ranks. Post here!

12 • 03 | CELESTIAL is holding an unusual fight training here! Be prepared to get messy!

11 • 28 | TALIS is holding a festival here! All Talis members are encouraged to attend!

11 • 24 | DAUNTLESS is having a mandatory meeting here.

11 • 19 | DRAGOSTE is having a mandatory pack meeting here!

11 • 13 | DAUNTLESS has claimed Mile-High Woods as a new territory.

11 • 07 | A new pack calling themselves DAUNTLESS has risen to claim Waterfall Peak.

10 • 23 | LIRIM is holding a pack hunt, mandatory for hunters, here.

10 • 23 | ABAVEN is holding a bison hunt here.

10 • 18 | The kingdom of FIORI has fallen. Will another rise to take it's place?

10 • 17 | Loner TORNACH is organizing a trade fair here. Invitations have gone out to all packs via falcon. Anyone is welcome!

10 • 03 | ABAVEN is having a mandatory meeting here.

Boreas:

Despite the previous winter being a relatively rough one, to the relief of wolves everywhere Spring has arrived in full force. The temperatures are unusually warm, and with the snow rapidly melting many lands, particularly in central Boreas, will seem unusually and uncomfortably muddy! Rain will be frequent all around, with thunderstorms growing increasingly common as spring turns to summer. Let's hope that so much rain will precede a fertile summer season!

Auster: The temperatures start to drop slightly as the driest time of the year fades away - nights may be uncomfortably cold sometimes compared to Auster's usually mild standards, though overall this season will be unremarkable. Lands near the ocean might experience more frequent storms, with tsunamis ravaging the continent's eastern coast far more frequently than usual - beware!
Name:
Gryphon Ancora
Nicknames:
Age:
3 Years
Birth season:
Autumn
Gender:
Male
Sexuality:
Pack:
Talis
Rank:
Crimson Fang
Alignment:
Neutral Good
Size:
Large
Height:
39"
Build:
Medium
Parents:
Mate:
Children:
Siblings:
Extended Family:
SKILL SET
Skill:
Beginner Fighter (0)
Skill:
Beginner Hunter (0)
Specialization:
APPEARANCE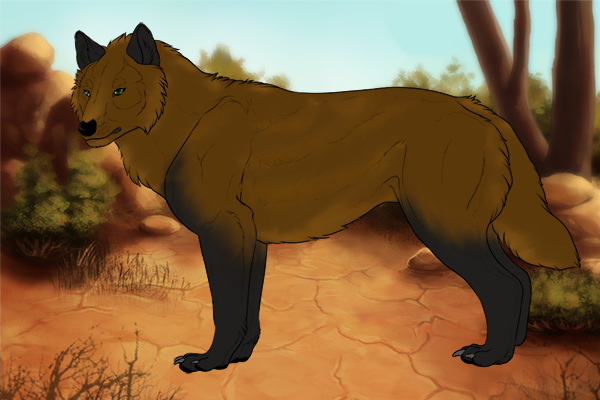 At first glance Gryph could easily be mistaken for his father - though taller he retains the same build. He has the build of a hunter, leggy and capable, but he is broad-shouldered and obviously strong. His paws are quite oversized, even when he grows to adulthood. There's a minimum of body fat on this rangy youth, what weight is on him is purely muscle. He is mostly earthen brown in tone, with the same black ears and black stockings his father bore, but the black of his stockings trails up the fronts of his shoulders and hips as it fades into the brown. He also bears the same dark forest green eyes as his sire, but golden brown highlights gleam in the brown of his coat to set him apart, lightly touching the top of his muzzle and cheeks, trailing down his chin and throat and belly, and softly filtering through on his back and sides, seeming to shift as he moves like the soft golden iridescence of an eagle's feathers. Unlike his unusually tall brother Lykos, Gryphon simply bears his mother's height of 39", making him neither the tallest nor the shortest of the siblings.
Summary
39" tall, medium build
broad-shouldered, leggy and rangy
earth-brown with gold-brown highlights
black ears and stockings
dark forest green eyes
Abilities
Keen-nosed
Sharp-eyed
Swift
Disabilities
Short hair (unsuited for northern winters)
Very little body fat (minimal reserves)
Health
strong but very minimal fat reserves from spending so much time up north without a pack, and recovering from a long journey

PERSONALITY
Gryphon is, by nature, a guardian of those he loves, and though he loves few he is at the heart of it all loyal, and generous, and extremely protective. Protective to the point of being annoying about it, honestly. It might take a serious argument to make him back off, and even then he might still sneak behind your back to continue being protective. He is, after all, quite stubborn. One might even call him hard-headed. It's not that he is stupid, though, far from it. He's sharp as a tack, extremely curious about everything and remarkably intuitive. He just doesn't like to give up on his particular course of action very easily, because of course he's always right. Still, you can always count on him to have your back, to hold up his end of a bargain. His word is good, and he's a sturdy shoulder to cry on if you need it though he's mildly uncomfortable with the sappy stuff. Deep thoughts sure, philosophical questions sure, but once you start getting into the weepy emotional stuff he gets pretty awkward. Rationality and logic is what he naturally falls back to, for the most part tending to shun passionate displays and decisions based purely in emotion. His biggest flaw, however, stems from the same core as his protective nature. Gryph is extremely possessive - of people, of things, of places. When something's special to him he doesn't like it being infringed on or taken away. He prefers to hoard them to himself, and since he has a bit of a weakness for shiny things that may begin to amount to quite a sizable hoard. As he's gotten older he's developed a strong tendency to be extremely suspicious about strangers, nearly to the point of paranoia in some cases. To those he doesn't know he can be extremely closed off emotionally and a bit touchy about it if they try to get close to him without actually earning his affection. He can be a bit difficult to get to know.
Summary
Loyal
Protective
Stubborn
Intelligent
Intuitive
Possessive
Likes
Shiny things
Odd little objects like fossils
Secret little nooks
Dislikes
Current Whereabouts/Activities
Talis territories in Auster (Amron's Castle, Starlit Plains)
in limbo from a challenge


MISCELLANEOUS:
age updated: 10/15/16
age updated: 5/21/17
SKILL POINT HISTORY
FIGHTING : 03.06.16
HUNTING : 04.26.16