WELCOME TO ARDENT!

SPRING : YEAR 11

OUT OF CHARACTER
IN CHARACTER
RANDOM EVENTS
WEATHER

01 • 10

| Some new

site improvements

have been made! Come see what all the excitement is about!

01 • 02 | It's now Spring of Year 11. Don't forget to age up your characters! :)

12 • 21 | Please note that Alpha Activity check is on hold for this week and the next, due to the holidays, and will be resuming for the week of January 2nd - 8th.

12 • 02 | Want some gems? Suggest some random site events!

10 • 06 | Have a Raid Scoreboard - you're welcome!

01 • 16 | ASHIEL ABRAXAS

is challenging

DRAGON ANCORA

for control of TALIS! Watch the drama unfold

here

!

01 • 15 | DAUNTLESS is holding a vote. Participation is required.

01 • 13 | DAUNTLESS is holding a moose hunt here. Attendance is highly encouraged.

01 • 13 | ABAVEN is holding a pack meeting here.

12 • 06 | LIRIM is holding a packwide hunt, mandatory for all ranks. Post here!

12 • 03 | CELESTIAL is holding an unusual fight training here! Be prepared to get messy!

11 • 28 | TALIS is holding a festival here! All Talis members are encouraged to attend!

11 • 24 | DAUNTLESS is having a mandatory meeting here.

11 • 19 | DRAGOSTE is having a mandatory pack meeting here!

11 • 13 | DAUNTLESS has claimed Mile-High Woods as a new territory.

11 • 07 | A new pack calling themselves DAUNTLESS has risen to claim Waterfall Peak.

10 • 23 | LIRIM is holding a pack hunt, mandatory for hunters, here.

10 • 23 | ABAVEN is holding a bison hunt here.

10 • 18 | The kingdom of FIORI has fallen. Will another rise to take it's place?

10 • 17 | Loner TORNACH is organizing a trade fair here. Invitations have gone out to all packs via falcon. Anyone is welcome!

10 • 03 | ABAVEN is having a mandatory meeting here.

Boreas:

Despite the previous winter being a relatively rough one, to the relief of wolves everywhere Spring has arrived in full force. The temperatures are unusually warm, and with the snow rapidly melting many lands, particularly in central Boreas, will seem unusually and uncomfortably muddy! Rain will be frequent all around, with thunderstorms growing increasingly common as spring turns to summer. Let's hope that so much rain will precede a fertile summer season!

Auster: The temperatures start to drop slightly as the driest time of the year fades away - nights may be uncomfortably cold sometimes compared to Auster's usually mild standards, though overall this season will be unremarkable. Lands near the ocean might experience more frequent storms, with tsunamis ravaging the continent's eastern coast far more frequently than usual - beware!
Name:
Vadim Armada
Nicknames:
Age:
3 Years
Birth season:
Winter
Gender:
Male
Sexuality:
Pansexual
Pack:
Loner
Rank:
Alignment:
Neutral Good
Size:
Large
Height:
36"
Build:
Heavy
Parents:
Dame; Abelinda Armada
Sire; Liar Walker
Mate:
Children:
Siblings:
Ramsay, Greed, Ash, Amara
Extended Family:
SKILL SET
Skill:
Beginner Intellectual (0)
Skill:
Novice Hunter (20)
Specialization:
APPEARANCE
Look through the holes in his eyes...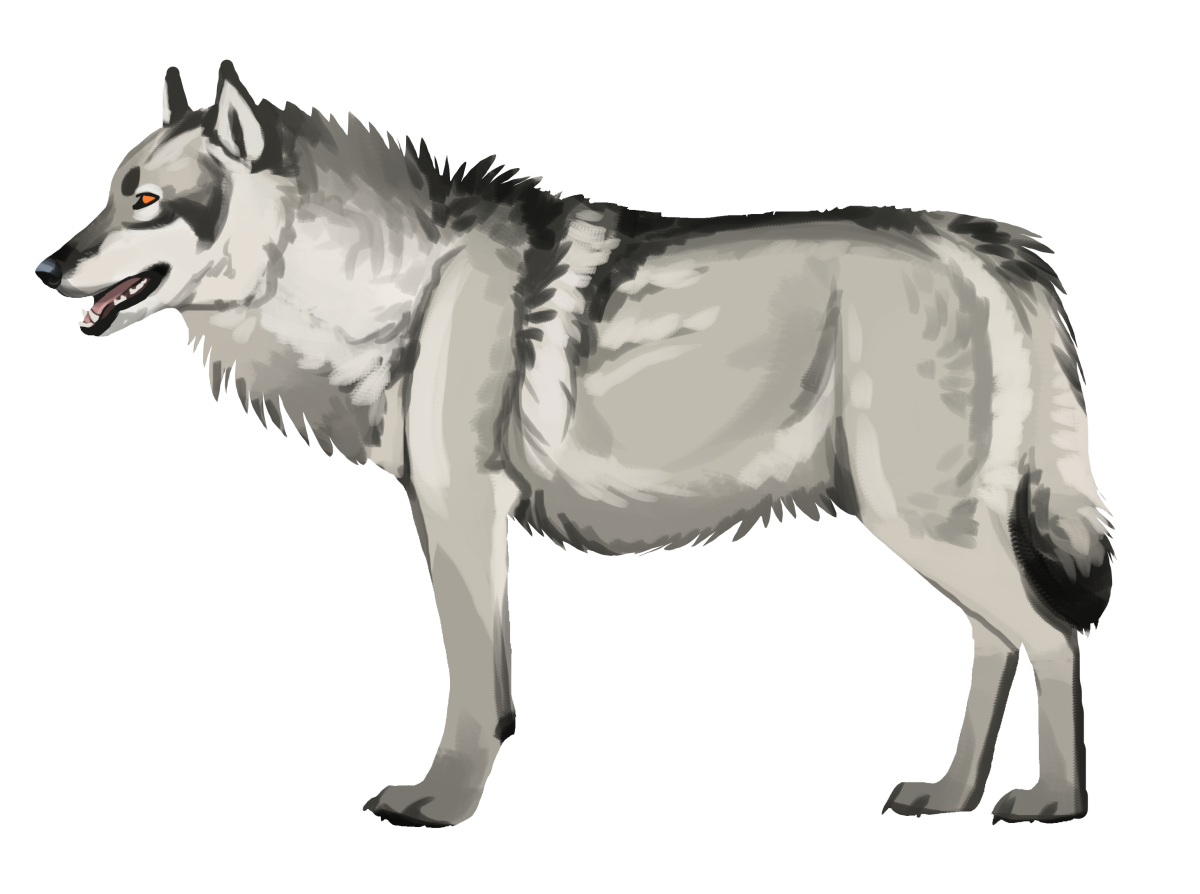 Appearance Ref
x
x
x
Scent;
Holly and Pine
Voice;
Tug
He was a divine wolf with an ironic contrast to his jacket, pale ivory seemed to be lightly dusted in volcanic ash. His colossal presence was one to easily stand out from a crowd and he held a gut that spoke of his gluttony every time it'd sway with his gait. Most disheveled about him was his mantle; gravity defiant and immaculately dense, it rarely ever held a look other than chaotic disarray to hold true to his nature. His limbs were solid and well-muscled, sustaining his behemoth weight with ease. His paws were wide, toes often splayed as he fluidly moved them across terrain with surprising grace. He was an apparent fallen angel, darkened but an image reaching divine and mystic beauty none-the-less. The light of the Heaven's seemingly stood behind those glorified windows into his image of a hallowed being, though a quick turn of the imp's wicked lips was usually enough to reveal Hell's touch as it's rapidfire burned into his heart so bright it glowed.


PERSONALITY
See his red, righteous soul.

Pride and wrath were common sins carried down the bloodline of his family, and Vadim was no exception to that. He carried himself usually in a manner that tossed his weight with a sense of vanity, but even so there was a distant look in his eyes that usually told those in his company that he was more in his own head than the outside world. He was a logical thinker and he had to be, emotions ran thick in his family and most had a reputation for their hot-headedness and greed. Vadim was no different, though he held a strong drive to make a change and knew that it started with self-control. In his youth, he struggles with keeping the reigns on his anger but it is a daily chore to remind himself of the respect he wants shown to him and his family and the necessary courses of actions required to get it. With a big heart, he is fiercely loyal to his blood and his bonds and he must keep in mind their best interest in everything that he does. In his past time, he is a hunter and finds that the game is a sure way to cool his temper. Hearth is what he lives for; to be surrounded by family, feasts and merriment.


SKILL POINT HISTORY
TROPHIES / AWARDS
Vadim's Signature