Gavroche
Autumn of Year 11
birthdate
Beau-tifullyWritten
player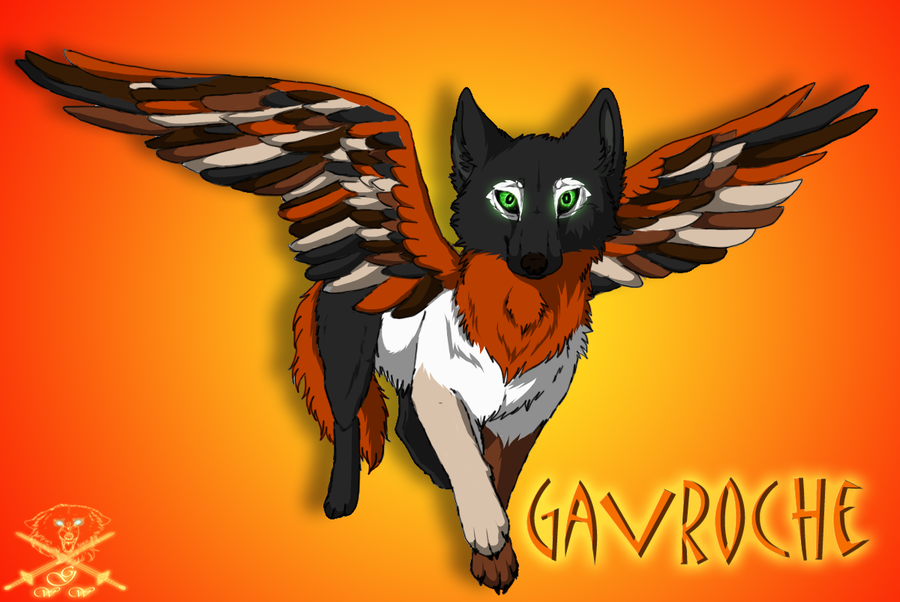 Gavroche is a beast like any other, standing at a mere height of seventeen inches and bearing something no wolf would have considered possible; wings. Though they are flightless these appendages of something striking to look at. They molt with different colors russet, brown, black and tan giving them a similarity to leaves changing in autumn. While not intimidating Gavroche is in general striking to look at, whether it's the patches of color across his coat or the very wings he bears. His eyes are a bright leafy green, wide and doe-like, that add to his strange appearance. Another thing to note is a large scar that starts at the front of his right ear and runs down the side of his face towards his cheek - the result of a storm he was caught in during Winter 16.
Gavroche's body is made up of patches of color. His main body is a pure ivory, whereas each appendage is another. His tail and mane is russet whereas his head and back legs are black. White rings around each eye, however, which help draw attention to them. His left foreleg is brown whereas his right foreleg is tan. His fur is silky to the touch, particularly around his ruff, belly, and tail. Overall Gavroche looks nothing like your standard wolf.
appearance
When a creature forgets itself, all that has made it what it is, what happens then…? Such a thing has happened to Gavroche who remembers only his name. The man was caught in a bad storm alongside his tiny companions and, were it not with the sheer will and luck of the gods, they all would have perished. Proof of the storm remains as a scar alongside the man's head as it has reclaimed every memory up until late winter of his fifth year. Gavroche is a man who values life and freedom above anything else. He is a healer through and through, putting past differences aside to ensure that those he is allied with, or even strangers requiring aid, are properly cared for. He is a kind young man, bearing a level head, and is quite accepting of different walks of life. After all, he himself is quite a different creature as he sports the wings of avians on his body. Though he can not fly Gavroche yearns to do so, even believing that the wings are a sign of his freedom. Gavroche tends to be the sort of wolf to leap before he thinks. He is, overall, a very sweet male who can be charming when he wants to be. Gavroche carries with him a deep desire of one day being part of something bigger than himself and having a family. He has a lot of self induced doubts, however, and questions if he had "the right stuff" to be part of a pack or even find a mate. He can be his own worst enemy… and does do a lot of interanlizing when it comes to feeling like he's not good enough. There is another part of him, however, that fights that negative side, pushing Gavorche to keep going and try even when he wants to give up. .
personality
x6" of reduced height -click-
Large Fantasy Mutation Pass -click- Large Accessory {Bag} -click- ----------------------------------
Jessie
Species: Kitti's Hog-Nosed Bat {Bumblebee Bat}
Gender: Female
Size: 1.1" [length]
Other:
-Natural coloration

James
Species: Pygmy Marmoset
Gender: Male
Size: 5.3" [length]
Other:
-Natural coloration [fur]
-Soft blue-gray eyes

misc
Relations
Skills
Novice Intellectual (15)
Intermediate Healer (30)
Fight Form
Gavroche vs (opponent) for (fight type)
Round x/x
Age: (Only include: over 1 year, under 1 year, or under 6 months as applicable)
Size: Extra small
Build: Light
Mutation 1:
Wings (Large Mutation) - Defensive
Skills: Novice Intellectual & Intermediate Healer
Gavroche vs (opponent) for (fight type)
Round x/x
Age: (Only include: over 1 year, under 1 year, or under 6 months as applicable)
Size: Extra small
Build: Light
Mutation 1: <a href="https://www.ardently.org/showthread.php?tid=25814">Wings (Large Mutation) - Defensive</a>
Skills: Novice Intellectual & Intermediate Healer

Racing Form
Gavroche vs (opponent) for Race
Round x/x
Age: (Only include: over 1 year, under 1 year, or under 6 months as applicable)
Size: Extra small
Build: Light
Skills: Novice Intellectual & Intermediate Healer

Gavroche vs (opponent) for Race
Round x/x
Age: (Only include: over 1 year, under 1 year, or under 6 months as applicable)
Size: Extra small
Build: Light
Skills: Novice Intellectual & Intermediate Healer