Incubus
Incubus Thorn Klein
full name
Autumn of Year 14
birthdate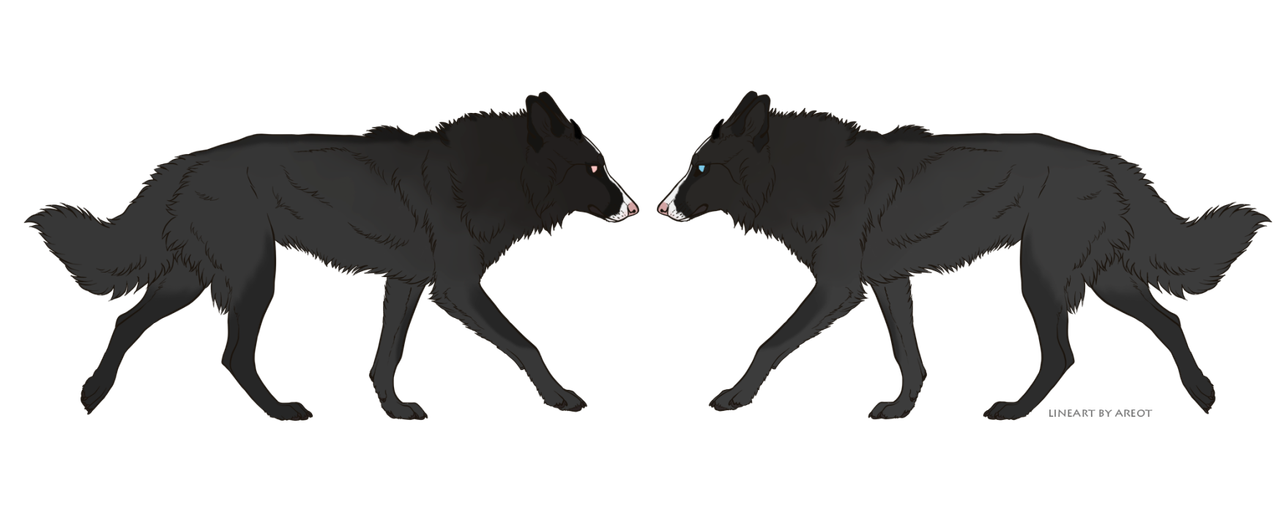 The majority of this demon's pelt is painted in a deep charcoal black. This black fluctuates in darkness but remains true nonetheless. Two hefty hind legs look as if they have been dipped into ink. That same ink seems to have been painted along his rigid spine and the front of his two front legs. Two pointed ears are a deep black, the same with the region below his eyes.
This faithless black is tested only once by a segment of white fur and a signifying pink nose. Alabaster sweeps across the Klein's muzzle and upwards between two mismatch eyes. This marking exposes his lineage to anyone who may know the Klein name. He also bears the same eyes as his father, Hannibal, pink and blue.
appearance
Ambition. This trait has been passed on from generation to generation for some time. The tales of conquerors and great battles were whispered into the beasts youthful ears. But as time went on and he grew distant from his family such ambitions were lessened to lusty desires and hunting a good meal. The life of a loner altered the male slightly. Rather then his previous fragility, emotional and physical, he learned what it took to grab hold of his own life. Incubus learned to depend only upon himself for sustenance and shelter. Those few years away from his former pack and family helped suppress that fanatical yearning for power. Though, Incubus is a Klein through and through, he was unable to settle. Monotony did not suit him.
It is evident Incubus is a glutton. Just as his father he will have this possessive nature. The need to claim what is not his. This ties into ambition but it delves much deeper, into that small dark hole in his heart. Morals come to this place to be met with abandon. Incubus is not afraid to get his teeth bloody or manipulate a situation if possible. The male isn't so tasteless as to murder in cold blood but he will settle things with tooth and claw when it seems necessary and promising. Incubus will learn to enjoy the art of battle, seeing how powerful one can be with just a bit of tact and muscle. This will fuel the determination to build on inherit skill and train at any chance he can get. The feign may be hungry but he is not lazy, by any means.
These prominent traits of ambition and greed lend themselves greatly to the darker depths of this demon. As once mentioned there is a rather dark void festering deep within the male. As he slipped from the grasp of darkness upon vanishing at a young age this unspoken hunger for a touch of chaos has yet to truly come to surface. It may rear its ugly head in entertaining situations as in antagonizing or instigating. But, that would be the least of it. Incubus will develop this thirst to gain information and utilize it in such a way to potentially black mail or plant instrumental seeds in feeble minds. All with selfish intent.
personality
History
Latest Posts
Thread
Forum
Date
whale of a tail

Cryer's Ravine

Mar 21, 2023 @ 10:16 GMT
I Don't Like Handheld Soup [Bootie Crafting]
Tall Grass Plains
Mar 11, 2023 @ 06:33 GMT
whale of a tail

Cryer's Ravine

Feb 27, 2023 @ 08:56 GMT
if there is one things gods love, it's tragedy

Wolfpaw Lake

Feb 27, 2023 @ 06:32 GMT
if there is one things gods love, it's tragedy

Wolfpaw Lake

Feb 26, 2023 @ 08:19 GMT
whale of a tail

Cryer's Ravine

Feb 19, 2023 @ 09:27 GMT
let us live, since we must die

Wolfpaw Lake

Feb 19, 2023 @ 09:07 GMT
Relations
parents
Hannibal Iber Klein x Deathbelle Ravage Klein
siblings
Hannibal Iber Klein x Deathbelle Ravage Klein
Siren Primrose Klein, Chimera Quill Klein, Incubus Thorn Klein
Hannibal Iber Klein x Nepthys Ithuriel
Banshee Fatalis, Recluse Klein, Moredcai Klein
Hannibal Iber Klein x Dutch Ahlberg
Gimli Klein, Godbrand Klein, Beryl Klein
Archon Abraxas x Deathbelle Ravage Klein
Venom Abraxas-Klein, Plague Abraxas-Klein, Calamity Abraxas-Klein, Pestilence Abraxas-Klein, Toxicity Abraxas-Klein
Skills
Expert Fighter (180)
Advanced Navigator (85)
Fight Form
Incubus vs (opponent) for (fight type)
Round x/x
Age: (Only include: over 1 year, under 1 year, or under 6 months as applicable)
Size: Extra large
Build: Medium
Defensive Battle Accessory: <a href="">Black Leather Bracers</a>
Companion 1: <a href="https://www.ardently.org/showthread.php?tid=42506">Silver Fox - Female - Battle</a>
Mutation 1: <a href="https://www.ardently.org/showthread.php?tid=30631">Horns - Offensive</a>
Skills: Expert Fighter & Advanced Navigator

Racing Form
Incubus vs (opponent) for Race
Round x/x
Age: (Only include: over 1 year, under 1 year, or under 6 months as applicable)
Size: Extra large
Build: Medium
Skills: Expert Fighter & Advanced Navigator

Incubus vs (opponent) for Race
Round x/x
Age: (Only include: over 1 year, under 1 year, or under 6 months as applicable)
Size: Extra large
Build: Medium
Skills: Expert Fighter & Advanced Navigator

Inventory listing
| Icon | Name | Description | Details | Quantity |
| --- | --- | --- | --- | --- |
| | Height (In Inches) | Allows an extra inch of height over 36", max of 42" allowed via purchase. | n/a | 5 |
| | Post-Acceptance Minor Mutation | Allows a minor mutation to develop on an accepted character (takes one season to fully develop IC). | Horns (Offensive) | n/a |
| | Large Companion | Allows for a large companion less than 25" tall (for birds, wingspan of 50" or less; for reptiles, length of 50" or less). | Female silver fox, 19" | n/a |
| | Battle Accessory - Defensive | A defensive battle accessory. | A pair of black leather bracers for the front legs | n/a |
Show used items