Back to Back Party
Yearling Party 2!
03-06-2023, 10:51 PM
(This post was last modified: 03-06-2023, 10:52 PM by Sparrow. Edited 1 time in total. Edited 1 time in total.)
OOC:
NO PUPS under 1 year please
! Assume they have been put to bed on the ship! Takes place a little after the raid when the yearlings are considered 'real pirates' by rite of raid.
Posts due 03/13/2023!
By tradition

: When a pup turns 1 year old in the band, there is a party at night! It's the first time that wolf is able to drink and also experience a hangover. It's good to learn your limits early, right? Usually the Saints are around to make sure no one makes any unwanted mistakes while the Sins are there to make sure everyone has a fun time! Drinking, singing, presents, and sparring are all typical through the night.
---


Sparrow could hardly believe it was time for another yearling party. This time there were two litters- one of her own, and one of Ignis and Eden. As much as she still shuddered to think she birthed the things, she was proud of how her pups were turning out. Because they were her own kids, she made sure to set this party up exactly as she had the last one, only adjusting for the fact that this party was for two litters instead of one.

Pongolo flew overhead to keep an eye on things. Friar stayed on his stage performing once again, but this time adding in new ballads of the most recent raid. Beef Sandwich stood atop a point of driftwood, looking as pissed as usual, but not meaning anything by it. Loners and friendly pack wolves alike had been invited, all that was left was for everyone to show up and get wasted.




Sparrow has a female Harlequin Macaw named Pongolo and a male Capuchin monkey named Friar, and a hairless mushroom tuxedo cat named Beef Sandwich. She also has cat claws... and some weird leg spike things.
Pirates Plunder
Baby pirate



Master Fighter (290)

Expert Navigator (120)
Marauder
age
1 Year
gender
Male
gems
209
size
Extra large
build
Light
Calico Jack saunters along the black beach of his home, heading for the party that his mother had set up with a certain swagger in his steps. The moment he had cut his teeth in a raid, the patchwork pup had known that that is where he belonged. Adrenaline had sung through his veins and the wounds he received only added to the thrill of it all. It had been chaos, pure and simple and Calico had enjoyed every blessed minute of it. His first official raid had been the season before, when the other set of pups had turned one but he was already for another one.

With a huge, shit-eating grin is on his lips as he enters the area set aside for the party, noting that he is the first to arrive. Shooting Friar, a wink he stops to watchthe Capuchin monkey for a moment as he plays on his stage. Turning, the calico boy then makes his way to where the alcohol bottles are and grabs one before moving to claim a spot near the fire. Settling in, Calico Jack deftly uncorks his bottle and raises the bottle to where his mother stands, bowing his head in respect as he silently says, 'this one's for you'.

Lowering his bottle, he casts his gaze around waiting for others to appear before he begins to drink since drinking is more fun with friends… everyone knows that.



"Calico Jack"

03-14-2023, 11:49 PM
(This post was last modified: 03-14-2023, 11:50 PM by Aresenn. Edited 1 time in total. Edited 1 time in total.)
When dusk began its transition to night, Aresenn found himself trailing his way up the coastline. The fire glow in the distance only reinforced the fact that he was in the right spot. However, it seemed that he was one of the first to come around- he was a little disappointed that Rivin or Diablo hadn't found their way in just yet. Though, beyond his siblings' absence, it was easy to pick out Calico Jack. His amber gaze trailed the mottled pirate as he picked a bottle- out of several, and took it back to a comfortable spot.

As he finished off the distance that divided them, he offered Sparrow and Jack a nod in acknowledgment as he selected a bottle for himself, taking it back a bit towards the shadows where he could still be in a conversational distance if necessary, but at the same time, was able to stay out of the immediate way. Popping the cork off his drink, Aresenn took a swig- not expecting the burn as it bit him back. However, he was able to manage without making a complete fool of himself. After all, the second drink would be easier.



Gil stood diligently beside Sparrow. The first yearling party had been a tad tame since only his own pups had reached the ripe age of one at that time. Tonight's party would hopefully be more boisterous now that Sparrow's and Ignis' pups were attending. His gaze was already watery as he sipped on his liquor. Modesty would be the one to keep them in line while he would egg them on from the sidelines. Acting more as a coach than the referee, Gil offered boozy pairings and light snacks so that the kids could all enjoy a night of fun and shenanigans.

"Speech" 'Thought'

gilgamesh can be aggressive,

probably

don't trust him
03-15-2023, 12:16 PM
(This post was last modified: 03-15-2023, 12:16 PM by Scald. Edited 1 time in total. Edited 1 time in total.)
"We're late for the party,"
he called to his brother as he began loping excitedly down the beach. His long legs were gaining confidence as they continued to grow into young adults. While only mildly well-behaved, Scald was looking forward to having a good time with his friends and siblings tonight. The boy's dual-toned gaze lit up as he saw the flickering torches surrounding the area of the party. Booze and food lined tables as Friar played upon the nearby stage. Already his father and Sparrow were there and he couldn't help but wink in her direction. The dumb boy would never forget besting the Pirate King that one drunken night.
Quickly grabbing a bottle for himself, Scald spotted Calico Jack and Aresenn not far off.
"Jack!"
Scald nearly chirps with excitement as he takes a swig of his bottle and heads over to the calico pirate.
"How're you likin' your party so far?"
He asks with that mischievous smirk of his as he sidles in to sit beside the other boy. Unlike the newly turned pups, Scald and his siblings had already had a season to get used to the burn of the booze. Even as he takes another swig, it flows easily down his throat without so much as a twinge from his eye.
"Talk"
Walk
He couldn't believe his pups weren't...
pups
anymore. They were yearlings now, and he hadn't realized just how fast time had pased until today. They were attending their yearling party, and he wasn't sure how to feel about it. Let them drink and have fun, sure. But he hated the idea that they were getting older. Getting older only meant trouble. Loss of innocence. He wouldn't be able to protect them the older they got. When they started going their own ways in the world. But dammit, he'd still be there for them for as long as they wanted him to. He sat to watch as others gathered, drinking his own choice beverage as he felt it start to hit. Gaze roamed the handful that were here, spotting Aressen off in the shadows, Jack over the other way, other kids streaming in. He could see Diablo making his way slowly toward the party. His midnight and ruby child wasn't much for social gatherings, but he seemed to want to be a part of this just as much as the others.
Sitting back, he threw back his head and had another drink. For one night, he wanted to forget that his pups weren't pups anymore.
Ignis has a pair of Sika Deer antlers that are not depicted in his artwork (yet).


Ignis is unpredictable and may become violent with little or no provocation due to his "demon" schizophrenia inherited in his bloodline! Consider this your warning!
*Ignis' tail is docked, and his left ear has been torn away and now resembles a Battle crop style.

Kashi was content to not go and party in the sand, but Roast Beef Sandwich had told him the drinks were sweet and beyond his better judgement, he decided to join the party, but not before making the hairless cat bring him some to taste ahead of time to make sure it was worth it. From the comfort of the ship, he sampled some of the drinks. They were good enough, but some were the worst thing ever and burned so he wouldn't be drinking those. After a few, he felt somewhat better about joining the party.

Mom and Ig and Gil were there and so were a lot of his pup mates. Friar played music, which was always nice. Calico Jack was already there drinking something. Arsenn too. Scald was talking to the group and Kashi tried to skirt around the chatting to grab himself a drink, sniffing at them before deciding which would be the sweetest to drink.
Sparrow was relieved her kids hit a year and none of them had died or disappeared or anything like that. They'd be tested against the next raid, but she was sure they'd survive. Gil and Ig joined to watch the party and Sparrow saddled next to the most reliable men in her life- which was funny since they weren't even her type if she had to ever guess. "So, anyone planning anymore litters?" she asked the guys as she tipped her drink back, "I mean I don't think most of us planned the first, but yanno." It was funny how things worked out like that.


Sparrow has a female Harlequin Macaw named Pongolo and a male Capuchin monkey named Friar, and a hairless mushroom tuxedo cat named Beef Sandwich. She also has cat claws... and some weird leg spike things.
Their yearling party had come… and Rivin had strongly debated about not even showing up. She wasn't really in the mood to socialize and interact with others. Would it have been good for her to? Probably. Rivin hesitated after Sparrow's call though. She remained where she was, staring up at the sky. Her mind felt weird… Like she was swimming and lost within herself, trying to get her bearings back. She shook her head back and forth. Maybe she was going crazy, just being with Lark and Feng most of the time… Ah well, whatever. She rose, starting towards where the party would be happening. Her ears might have been facing forward but her gaze was on the sand. Even as she arrived, smelling the drinks and food, the yearling did not look up. She would remain around the edges of the party and then lay down on the sand, crossing her forelegs before laying her head upon her paws. She was late but eh… good enough. She was here.
"Talk,"
'Think.'
More of the yearlings began to trickle in. Gil really couldn't believe it. They had gone from one litter to three litters in the span of two seasons. He hadn't taken Ignis or Sparrow for the parent types, but he didn't really consider himself a real father either. Taking his own large sips of his drink to help drown the realization that all of the pups were grown, he nodded his head respectfully toward Ig as he came to join them. Just three pirate parents admiring their kids, what a sight.
Sparrow's question though made him choke on his next sip. Fighting the burning sensation, he gave a look with a double-raised brow.
"I don't believe Modesty is quite keen on more pups,"
he admitted. They all knew she had had a difficult time. What with the loss of Jett and then the absolute sass that Deluge had toward her mother. Not to mention Flurry being quite the shut away and the boys always wandering off... Gil wasn't quite sure if he wanted more.
"Maybe someday, but not sure any time soon,"
he shrugs his shoulders before taking another sip.
"speech"
CODE BY SHELBY
gilgamesh can be aggressive,

probably

don't trust him
03-25-2023, 10:20 PM
(This post was last modified: 03-25-2023, 10:23 PM by Sephiran. Edited 1 time in total. Edited 1 time in total.)

Some time had passed since Sephiran last saw the pirate boy he had met at the beginning of the season. The two of them had struck an odd type of… friendship? Companionship? He wasn't even sure what to call it. He still considered the boy to be disposable, but he couldn't deny the fun they had when they were together. They both shared a love for gluttony and bloodshed, which didn't seem to be a common theme on this new continent. He had also been the first wolf who invited him into his packlands, which was something the Saxe boy couldn't pass up. He was curious about the pirate crew, how they operated, and what their dynamic was. If they truly withheld treasures, women, and booze ripe for the taking, Sephiran wanted to see it for himself.

He made his way towards the southeastern beach, following the directions Aresenn had given him. He made the journey in a day's time and waited until sunset to venture toward the borders. Aresenn had told him there would be a large fire at the gathering, which would release plumes of smoke to act as a beacon. It was easy to spot the glow of the fire, even a few miles off. So, when he saw it, he didn't hesitate to cross the borders and gravitate toward it. There was an array of scents all around him. He tried to depict different scents, to get an idea of just how many wolves lived here. But with the sea salt and sulfur intertwining with the smells, it was hard to decipher an estimate.

As he neared the gathering, he could hear the voices of many wolves, along with a melody of sounds he had never heard before. Music. It seemed otherworldly, and made him curious. So odd. As he entered the clearing, he stopped to take in the scene. Multiple wolves of all shapes and colors, along with other animals, were standing around, drinking and eating different things. He picked out Aresenn rather quickly, who was lingering on the outskirts of the party. He strode over to the boy, coming up to his right to stand beside him. "Whose in charge." He asked, his tone sounding more like a command than a question. He wanted to know who the alpha was right off the bat, to know who was in charge of holding the reins. But really he wanted to know what he was up against.


"Speech"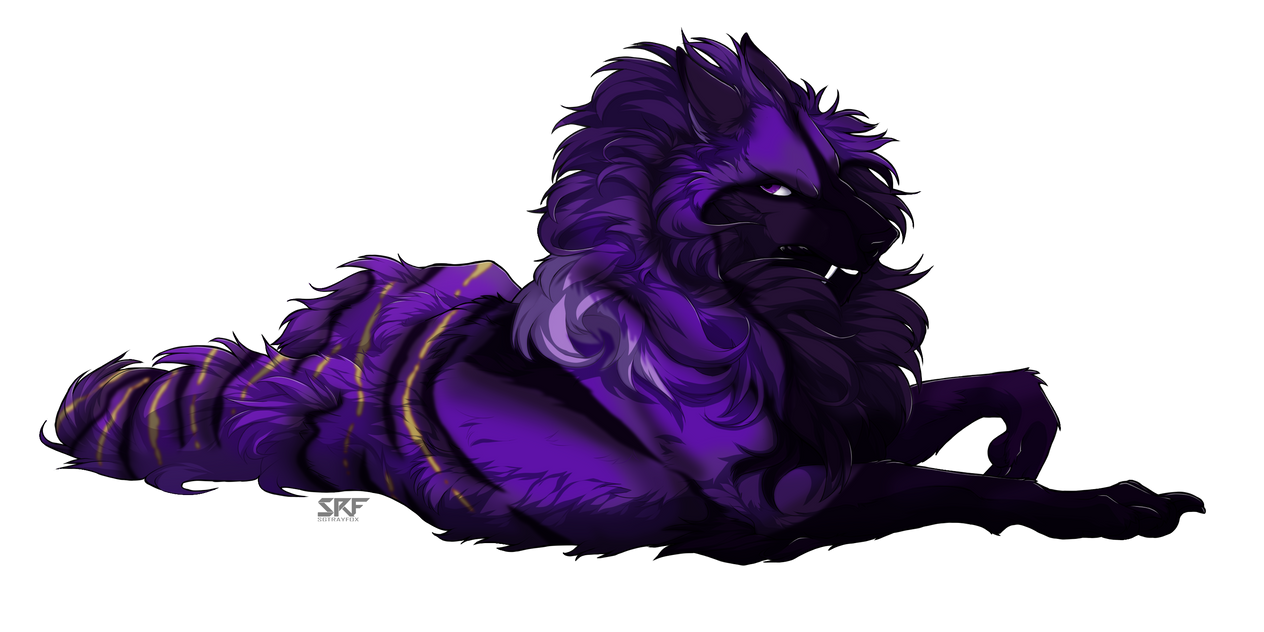 Caution: Sephiran is a rated M character. Viewer discretion is advised.
As the evening progressed, several more of the pirates joined the festivities. Gil and his dad joined Sparrow- the sound of their voices apparent in the background, though he didn't much care as to what they were saying. Scald and Kashi showed up, as did Rivin. Though, by the looks of it, his sister wasn't in the mood to interact. He'd offer her a nod, but didn't approach. What caught him in a bit of surprise, was the arrival of Sephiran. Yeah, he had invited the Saxe boy. However, he had never expected for his uhh … confidant of sorts- to show, invitation or not. Maybe this shindig might have the potential to be more fun than he initially thought.

Aresenn kept his attention on the exchanges happening between some of his pack mates as he noticed Sephiran's approach in his peripheral. He nodded a greeting of acknowledgment as he took another swig off the top of his drink, glancing toward the purple brute as he pushed for information as to who was calling a shot. Using his bottle, he gestured toward the three adults that stood together. "The murky brown one is Sparrow- the Pirate King." He started. "The other two in that cluster are Gilgamesh- the grey one. And Ignis- the red one." It felt weird saying his father's name, and not referring to him as 'dad', but the Praetor boy didn't miss a beat. "They are kinda like second in commands … not that there is a standard hierarchy here." He made an attempt at an explanation.

After a moment of silence, Aresenn continued. "Help yourself to the food and drinks," He mentioned, gesturing to what had been laid out. With a crooked smirk, he cast a sideways glance toward the Saxe boy. "Try to not cause too big of a scene. If things get out of hand, I'm going to claim I don't know you … though hopefully, everyone will be too hungover to remember by morning." He chuckled a bit, before returning his attention back to some of the other yearlings gathered, interested to see exactly how this event would progress.